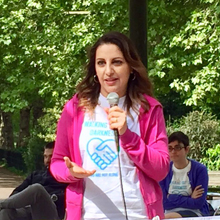 Chrissy B was invited to be one of the speakers at a recent 'Walking Out Of Darkness' event (organised by CLASP charity) which took part 13th May 2017.
The event began with talks by those involved in mental health including Labour leader of Camden, Sarah Hayward, Bryony Gordon, Columnist for the Telegraph, Jonny Benjamin award-winning mental health campaigner, and Chrissy B Producer and host of the Chrissy B Show.
Following the talks there was a 10 mile walk in support and unity for individuals and families suffering from mental health difficulties and those who have lost loved ones by suicide.
Chrissy B said, "It was great to see hundreds of people attend the event determined to raise awareness about mental health and suicide prevention. My message was that we should all speak out about issues that are bothering us and most importantly get the right help. Full recovery is always possible."